Halfway through last year, I felt horrible. We were three months into the shutdown due to the pandemic since March.
Working from home blurred the boundary between work and personal life. My physical activity level had fallen drastically, and my life felt out of control.
I had to do something to take back control my life. I always thought daily habits and rituals are critical to conferring meaning in our lives. So I gave myself a simple task - ride my bike for at least 30 minutes every day.
Here, I outline different phases of my cycling journey.
Phase 0: Deciding to ride daily
A couple of months earlier, I had bought Wahoo KICKR to cycle indoors. KICKR is a smart trainer that you attach to the back of your bike. It can increase or decrease the resistance to mimic going uphill or downhill. I use KICKR with Zwift. Zwift is a multiplayer virtual online cycling and running program, with different routes and challenges. Zwift provides the map and the landscape, and KICKR adjusts the resistance to reflect what's on the map. The experience is social - you can ride or race with others. You can even draft behind other cyclists.
I decided to Zwift 30 minutes per day. That was the only goal. It didn't matter how far I rode so long as I rode for at least 30 minutes.
Phase 1: First 20 days - Ride min. 30 minutes daily
I started riding on 6/21/20 for 20 days straight. At first, I felt great. But towards the last two of the 20 days, I was exhausted. I hadn't considered my fitness level when I resumed cycling. Because the goal was "minimum 30 minutes of cycling daily," I was free to ride much longer. I often rode longer than 30 minutes and had much longer rides, such as the Strava's Gran Fondo challenge (100 km). On my 19th and 20th day, I was struggling to finish the 30 minutes. My initial goal wasn't working anymore. I paused to take a break and revisit my goals.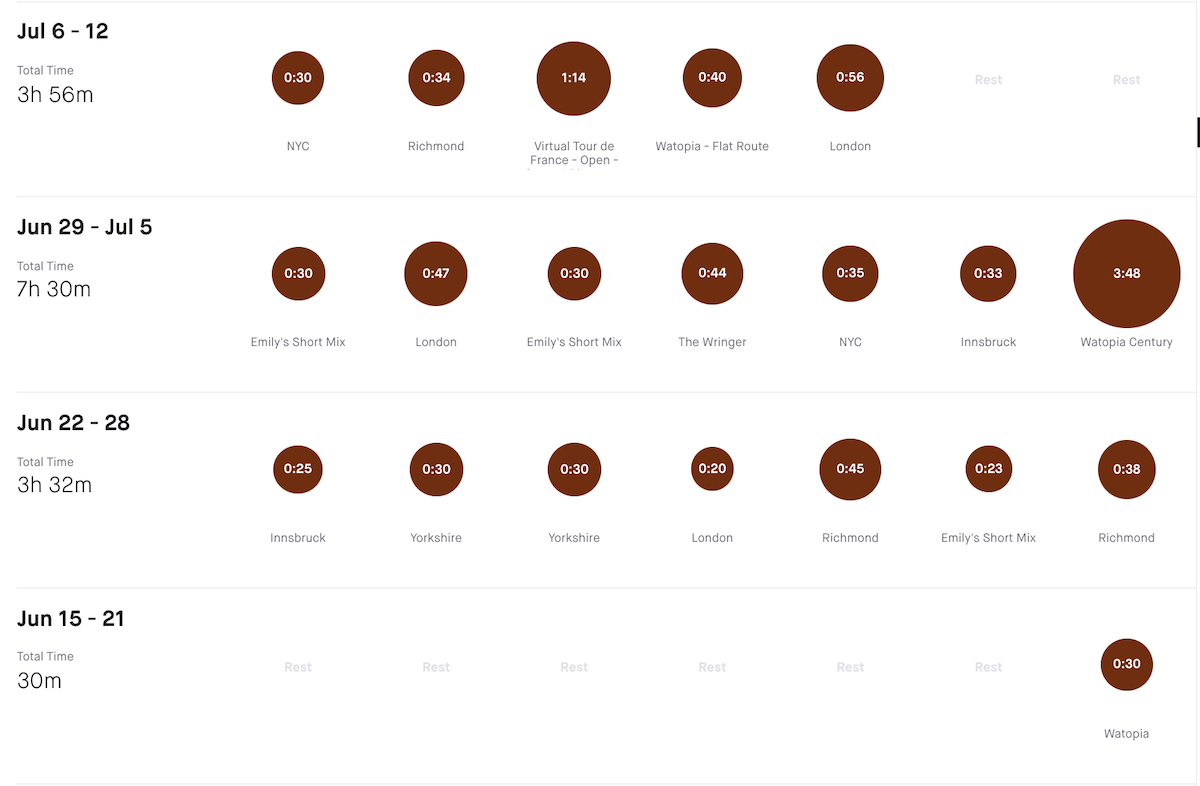 Strava training log
Phase 2: New goal - Improve FTP
My goal of "riding minimum of 30 minutes daily" was rigid and didn't allow for recovery days. Perhaps optimizing for a long term goal with an overall performance metric could automatically factor in rest days - since for optimal performance, you need rest breaks.
New goal: Improve FTP by 10%.
FTP stands for Functional Threshold Power. It's the power that you can hold for an hour, measured in watts. While not perfect, it's a metric that many cyclists use to measure performance.
My starting FTP was at 145 W (2.9 W/kg). My target was to increase this by 10% to 160 W (3.2 W/kg). Since I wanted to improve my FTP systematically, I signed up for a Zwift training program.
Build Me Up is an intensive training program that you do 4-5 times per week (total 50 sessions in 12 weeks; 53 sessions and 13 weeks if you include the pre-training week). Most sessions lasting 1 - 1.5 hours, but a few stretch into 2 hours.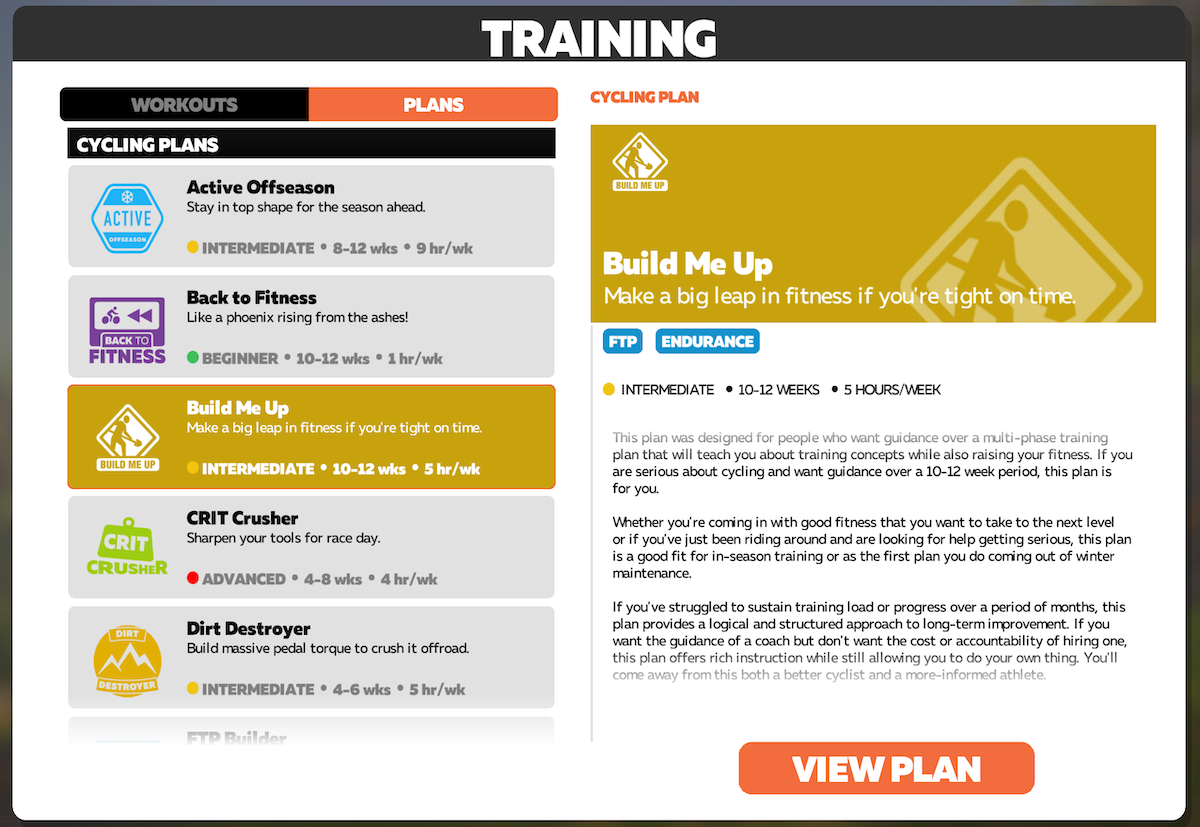 Zwift training plans
Phase 3: Adding more workouts
Group rides, Jump Rope Challenge, Chloe Ting
Few weeks into Build Me Up, I was on a roll. It felt so good. While Build Me Up was intense, I was used to cycling daily. So I often added other group rides, riding 5-6 days per week.
I also came across a basic skipping game called Jump Rope Challenge on Nintendo Switch. You hold the controllers like how you would hold the handles of the skipping rope and skip in place. It's a cute app, so why not add it to my routine? So I did. I did 100 jumps the first day, 500 jumps the second day, and started skipping 1,000 jumps per day after my bike rides. 1,000 jumps because that was the maximum number of jumps recorded by the game.
After a while, I started noticing loose skin. I was losing body fat rapidly, but I wasn't gaining muscles as quickly. Around this time, I heard about Chloe Ting workouts. They are repetitions of short but intense movements with or without weights. So I added this and light weight training to the mix.
With extra rides and additional workouts, I was averaging 1.5 hours per day of intense workouts, almost daily.
FTP increase halfway through the training
At first, I was full of energy. I saw my FTP increase 6% halfway through the workout. At this rate, I was on my way to hit the 10% goal, I thought.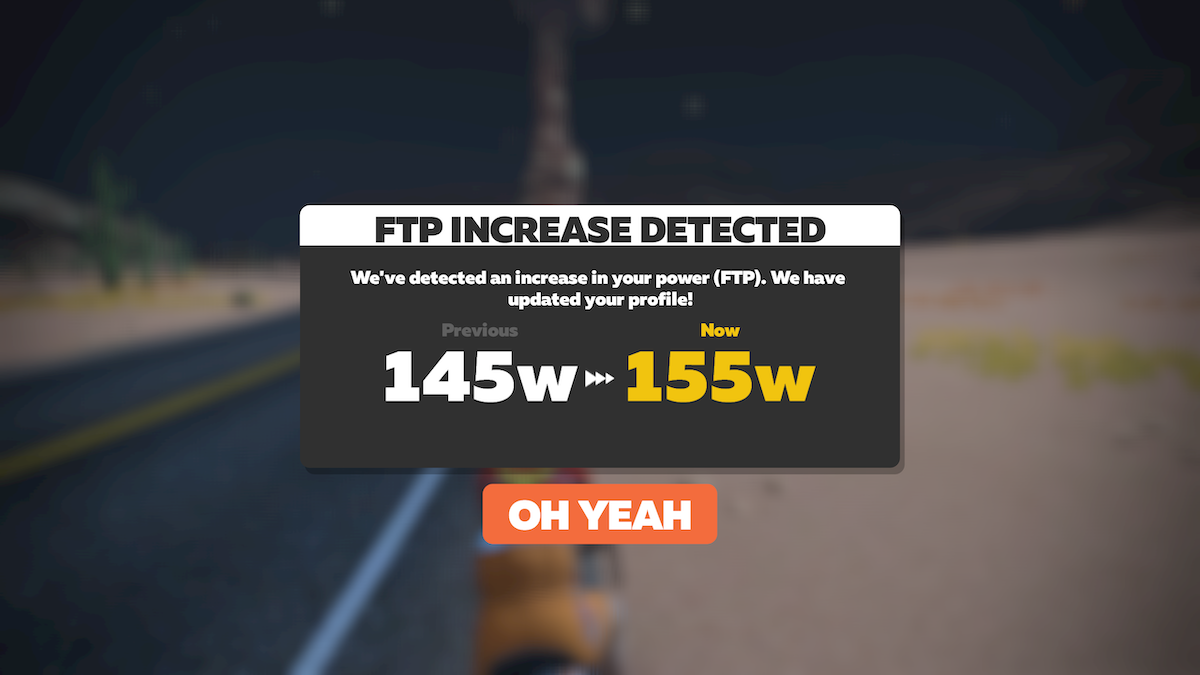 But I was on my way to extreme fatigue…
Phase 4: Fatigue
I joined Rapha Women's 100 ride virtually this year, clocking another 100 km ride with hill climbs in 3.2 hours in early September. This ride probably pushed me to the limit. According to Strava's Fitness & Freshness graph, this event scored the highest fatigue and the lowest form. My fatigue score improved after few days of less intense workouts on this graph, but I still felt exhausted.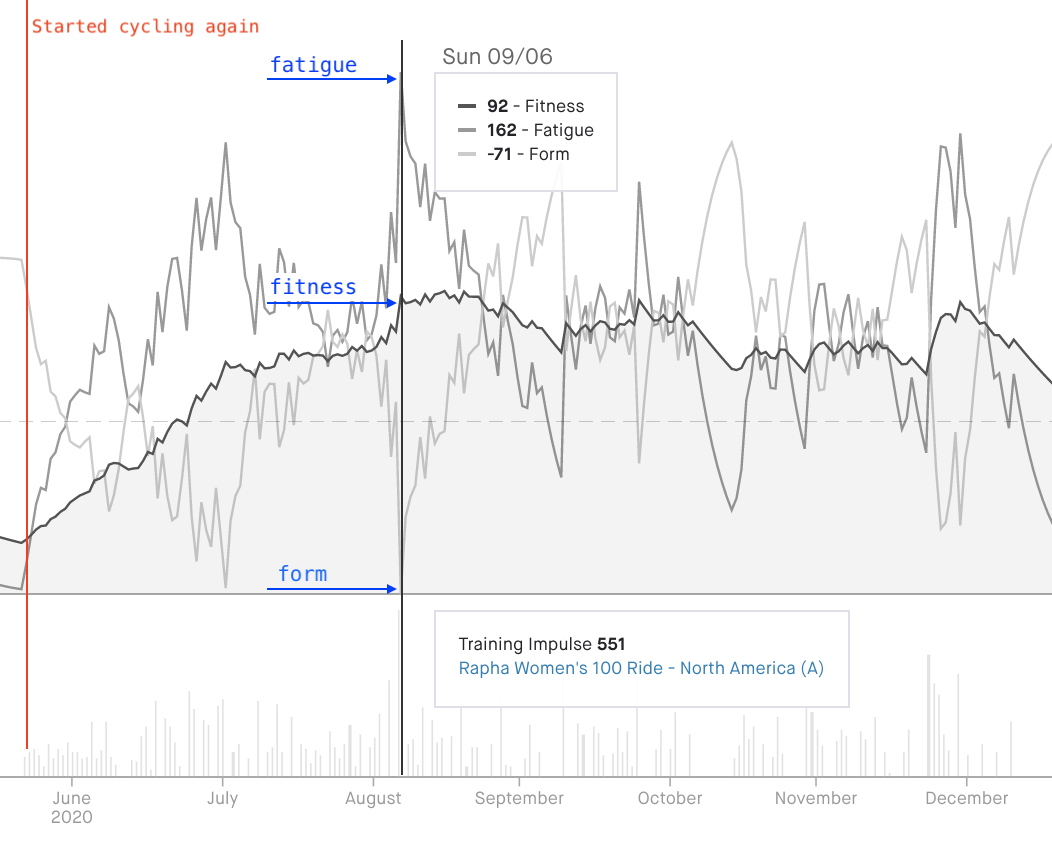 My Fitness & Freshness Graph on Strava
In the last few weeks towards the end of the training program, I was so tired that the only goal was to complete the training. There was a FTP test at the end of the program. I scored lower FTP at this test than my starting FTP. Honestly, I was too tired to care. I was glad that the training was over! I only missed two workouts out of fifty!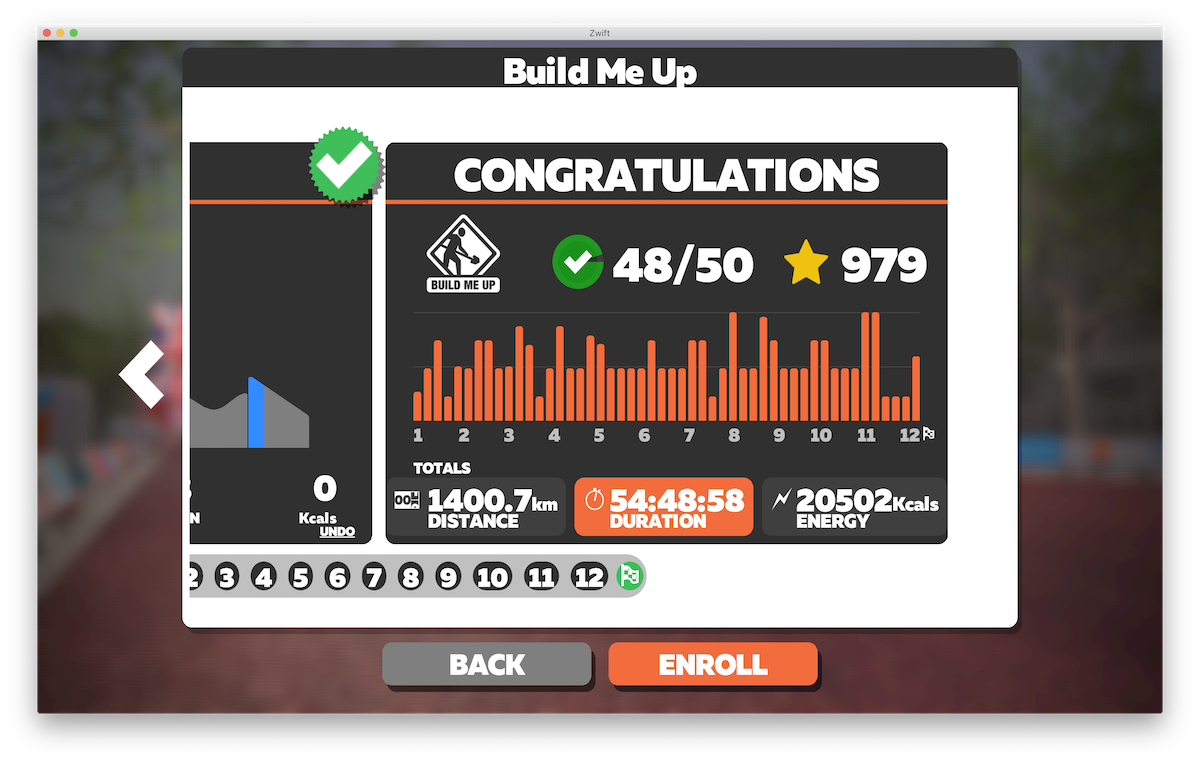 Phase 5: Free Rides: Zwift Academy 2020, Rapha Festive 500 Ride
After Build Me Up, I decided to take it easy for a few weeks and recover. I mainly did short workouts few times a week, adding challenges here and there.
Zwift Academy (Oct 1 - Nov 25, 2020)
In the last week of my Build Me Up training, Zwift Academy Road 2020 started. Zwift Academy is an 8-week training program used initially to scout pro cyclists, but anyone can join these workouts. After completing Build Me Up, Zwift Academy felt like a breeze. I'm proud to say that I'm one of the 3,725 female cyclists to graduate!
I took plenty of rest in between the rides to recover. After completing one of the virtual races, Zwift announced that my FTP increased to 162 W (3.24 W/kg)! My consistent training with Build Me Up had paid off. While it took a few more weeks, I achieved my goal of improving my FTP by 10%.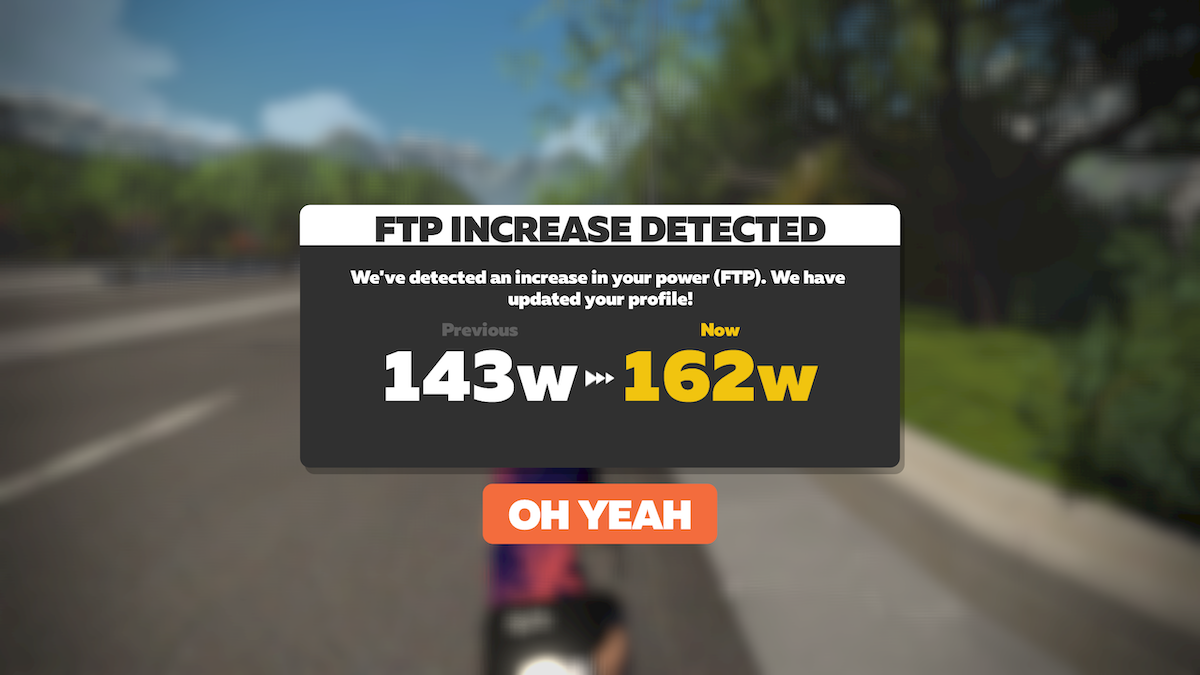 Rapha #Festive500 (Dec 24 - Dec 31, 2020)
I also participated in Rapha #Festive500. #Festive500 is a yearly challenge where you ride 500km (310 miles) in 8 days, between Christmas Eve and New Year's Eve. This challenge is usually done outdoors, but indoor rides were counted this year due to the pandemic.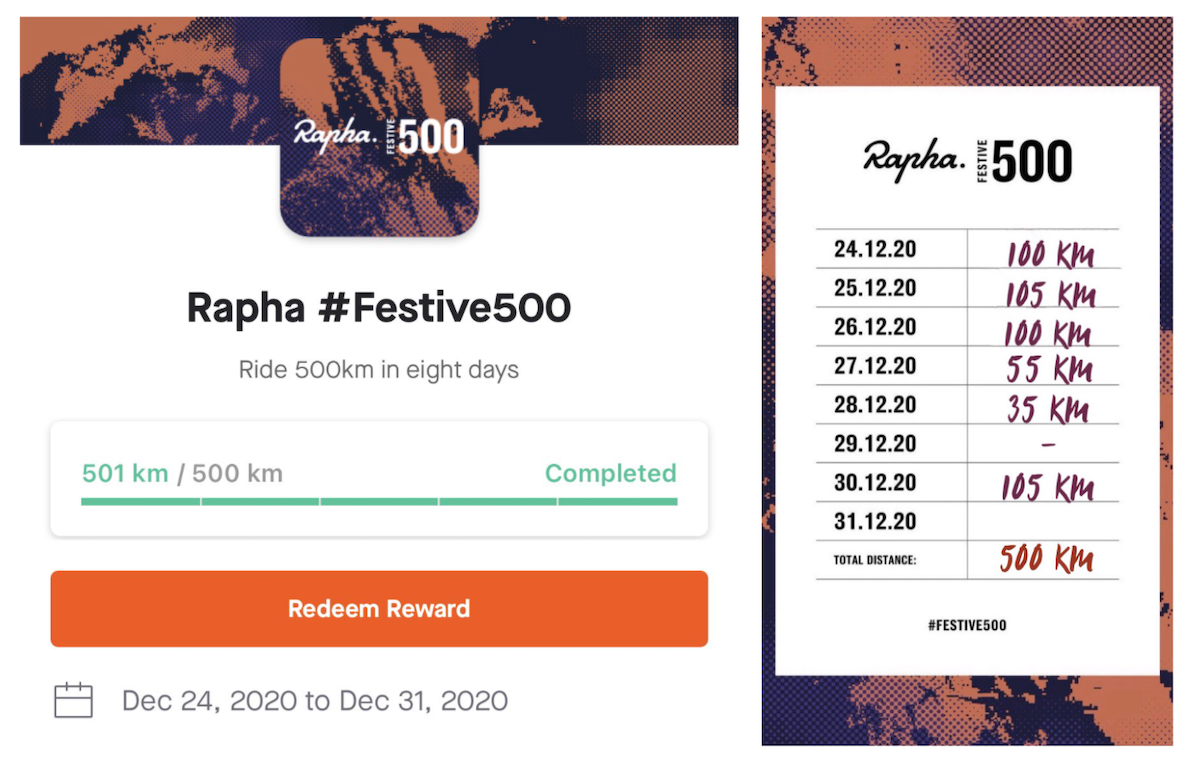 Recap
Here is a recap of my cycling journey over the six months:
Started with daily rides of 30 min/day.
Did a 12-week training plan (Build Me Up).
Added too many workouts during the training plan, leading to burnout and a decrease in performance.
Spaced out workouts and took plenty of rest in between.
Improved my FTP.
Did more flexible rides, joining challenges like Zwift Academy Road and Rapha #Festive500.
Main Takeaways
Start with a simple goal. For me, that was riding 30 minutes per day. Everyone's body and fitness levels are different. Keep experimenting to find out what works for you.
Taking rest breaks are essential. You need to let the body recover to become stronger.
Be mindful of the your North Star and keep experimenting. It's a learning process. The key is not to blindly follow the schedule but instead, be mindful and listen to your body. It's okay to deviate from the weekly goals or miss a few workouts. The true goal is to get stronger and build endurance, not checking off an item on your list to feel good.
Most importantly, have fun!